Dongfeng Honda e:NS1 launched
2022-05-11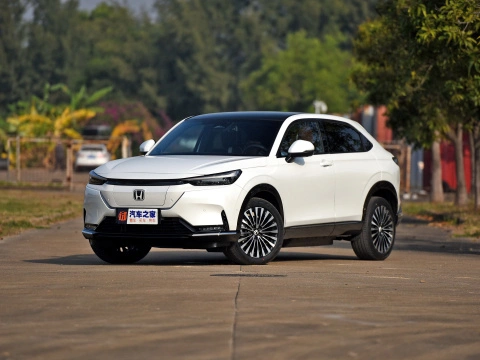 [Car Home  Information ] A few days ago, we learned from relevant channels that Dongfeng Honda e:NS1 ( parameters | inquiry ) will be officially launched on April 26. The new car is positioned as a compact pure electric SUV with a CLTC range of 420 kilometers and 510 kilometers.
  In terms of appearance, Dongfeng Honda e:NS1 adopts a minimalist appearance design. The outline of the front grille can still be seen on the front face, but it is already a closed design. The headlights and the black trim are in the same color scheme, making the overall feel stronger. The Honda LOGO of the new car can also be lit up and become the focus of the front face.
  On the side of the vehicle, you can find the silhouettes of Binzhi and XR-V, especially the design of hidden door handles in the rear doors. In terms of body size, the new car has a length, width and height of 4390/1790/1560mm and a wheelbase of 2610mm. The rear of the car adopts through-type taillights, similar to the headlights, with a blackened design that adds a sense of movement.
  In terms of interior, Honda e:NS1 adopts a minimalist design style. The interior consists of a 15.2-inch multimedia touch screen with a vertical layout and a full LCD instrument. The function operation buttons on the center console are all touch-type, and the shift mechanism It is also an electronic button-type, through-type air-conditioning outlet shape, and blue atmosphere lights, giving the interior a simple decoration.
  The new car is equipped with the Honda full-stack intelligent control ecosystem e:N OS, which integrates the Honda SENSING 360 intelligent driving assistance system and the Honda CONNECT intelligent guidance interconnection system. At the same time, Honda is also emphasizing that the new car will have good driving pleasure, and will be equipped with noise reduction technology and Honda EV Sound acceleration sound for the car.
  In terms of power, the new car may launch two power versions, both equipped with permanent magnet synchronous motors, with a maximum power of 134 kW and 150 kW respectively, and a maximum torque of 310 Nm. The battery packs of the new car are all ternary lithium battery packs, with two cruising ranges of 420 kilometers and 510 kilometers (CLTC) to choose from. (Text / Qin Chao, Autohome)