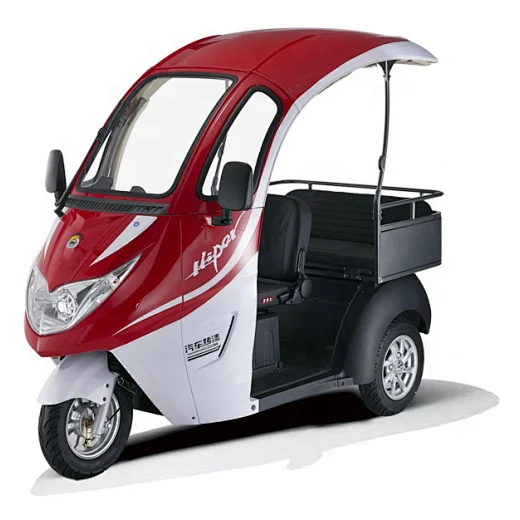 LTH-02B
Minimum order quantity:
1
Min. Order:1
EBU Cabriolet tricycle Electric Big Powered 3 Wheel Cargo For Adult
Specification Description:LTH-02B
LTH-03
LTH-02A/02B
LTH-01
Dimensions
2300*1120*1600mm
2000*970*1550mm
2300*1120*1600mm
Charger type
external
external
external
Steering configuration
handle
handle
handle
Battery specifications
60v45ah/60ah
60v32ahDouble
60v20ah
Wheel base
1655mm
1420mm
1160mm
Transmission ratio
1|9
1|13
1|13
Ground clearance
160mm
110mm
130mm
Motor power
1000w
800w
500w
Curb Weight
230kg
150kg/180kg
90kg
Motor
permanent magnet DC
permanent magnet DC
permanent magnet DC
Braking mode
hydraulic handbrake
Front drum brake,rear disc brake
Front drum brake,rear disc brake
Max speed
45km/h
45km/h
45km/h
Parking mode
handbrake bolt type
handbrake bolt type
handbrake bolt type
Range
≥70km
≥60km
≥50km
Front wheel specifications
135-70-12
3.5-10
3.5-10
Rear wheel specifications
135-70-1
3.5-10
3.5-10
Rated carrying capacity
3 people
3 people
2 people
FAQ
Question 1: How to place an order?
A: The procedure is like this:
1). Contact customer service to determine the freight and product model, configuration, quantity and other detailed information (you can also arrange freight forwarding by yourself);
2). We provide you with a proforma invoice according to your final decision, which contains all product details;
3). You need to arrange 30% of the payment to our bank account, and then we will prepare the product to start production (the cycle is generally about 10 days, which can be shipped specifically for your order configuration quantity);
4). After the product is completed, the remaining payment is paid, and we arrange forwarder delivery (or we provide relevant information to arrange forwarder transportation by ourselves).
5). After completing this process, the customer service will track the product location and notify you when it is about to arrive and when it arrives, so that you can quickly prepare for customs clearance and other related issues.
6). After getting the items, there will be a dedicated after-sales team waiting for your follow-up feedback.
Q2. What does your FOB reference price include?
A: FOB price only includes cost. If you do not have your own freight forwarder, please provide us with a port near you
Countries/regions, we will quote CIF prices including shipping costs.