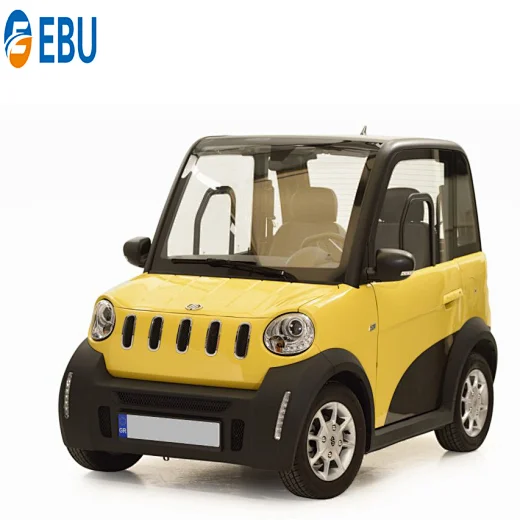 JY-C1
Minimum order quantity:
1
2021 EEC china electric car adult
 Name:JY electric car
Features
Equipped with EEC, there can be 4 seats, maximum 80KM / H, the most important thing is: the steering wheel can be installed on the right
Top speed(Km/h)
45
80
45
80
Gradeability
20%
20%
20%
20%
Charging time
6-8hours
6-8hours
6-8hours
6-8hours
Range(km) 40km/h
140
80~100
>100
80~100
Model
JY7221-ZQR
JY7222-ZQR
JY7251-ZQR
JY7222-ZQR
EEC
L6e-BP
L7e-CP
Overall
dimensions(L*W*H)mm
2245*1290*1570
2245*1290*1570
2545*1290*1570
2545*1290*1570
Wheel base(mm)
1500
1500
1800
1500
Wheel track(mm)
1100/1090
1100/1090
1100/1090
1100/1090
Min.ground
clearance(mm)
150
150
150
150
Curb weight(kg)
635(with battery)
645(with battery)
655(with battery)
663(with battery)
Seating capacity
2
2
4
4
Motor type
AC motor
AC motor
AC motor
AC motor
Kw Rated Power
3.5
7.5
3.5
7.5
Rated Voltage(V)
60
72
60
72
Battery
Maintenance-free
lead acid battery
Maintenance-free
lead acid battery
Maintenance-free
lead acid battery
Maintenance-free
lead acid battery
Battery quantity
5
6
5
6
Battery capacity
12V 120Ah
12V 100Ah
12V 120Ah
12V 100Ah
Charging voltage(V)
220
220
220
220
FAQ
Question 1: How to place an order?
A: The procedure is like this:
1). Contact customer service to determine the freight and product model, configuration, quantity and other detailed information (you can also arrange freight forwarding by yourself);
2). We provide you with a proforma invoice according to your final decision, which contains all product details;
3). You need to arrange 30% of the payment to our bank account, and then we will prepare the product to start production (the cycle is generally about 10 days, which can be shipped specifically for your order configuration quantity);
4). After the product is completed, the remaining payment is paid, and we arrange forwarder delivery (or we provide relevant information to arrange forwarder transportation by ourselves).
5). After completing this process, the customer service will track the product location and notify you when it is about to arrive and when it arrives, so that you can quickly prepare for customs clearance and other related issues.
6). After getting the items, there will be a dedicated after-sales team waiting for your follow-up feedback.
Q2. What does your FOB reference price include?
A: FOB price only includes cost. If you do not have your own freight forwarder, please provide us with a port near you
Countries/regions, we will quote CIF prices including shipping costs.