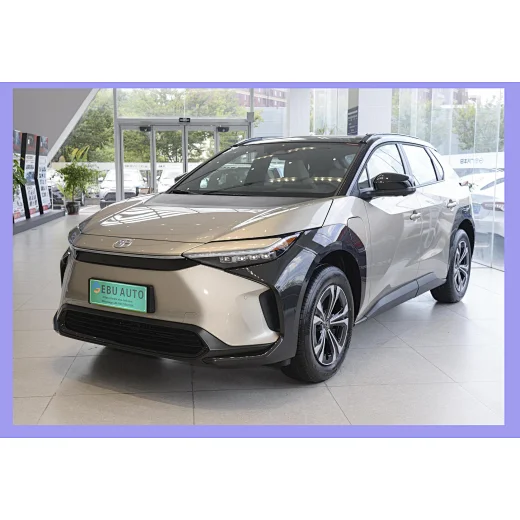 GAC Toyota bZ4X
Minimum order quantity:
1
As a medium-sized pure electric vehicles SUV based on the e-TNGA platform, GAC Toyota bZ4X new energy vehicles ( picture | configuration | inquiry ) will be officially launched on the market in October 2022. There are 5 models to choose from, and the guide price at that time was 199,800 -287,800 yuan (that is, the selling price before the limited-time direct drop).
In terms of appearance, the front face of GAC Toyota bZ4X electric vehicles uses many sharp lines to outline a three-dimensional outline, while the traditional air intake grille area adopts a closed design,  which is also the usual design method for new energy vehicles. In addition, the electric vehicles also has a slender headlight group, in which the daytime running lights in the lamp cavity are connected by chrome-plated strips, creating a penetrating visual effect.
Viewed from the side, GAC Toyota bZ4X electric vehicles shows an angular silhouette, the body surface is integrated with the winding waistline, and the slightly expanded front and rear fenders create a certain sense of strength. As for the rear part of the car, the car adopts the currently popular through-type taillight design, and ends with a"Y"shape on the left and right sides, which is well recognizable after being lit. In terms of body size, the length, width and height of GAC Toyota bZ4X electric vehicles are 4690/1860/1650 mm respectively, and the wheelbase reaches 2850 mm.
In terms of interior, GAC Toyota bZ4X electric vehicles adopts a symmetrical design, in which the center console is covered with a large area of ​​fabric to highlight the concept of environmental protection, but this also weakens the sense of class in the car to a certain extent. In addition, the car uses a round multi-function steering wheel and a 7-inch full LCD instrument, while the mid-to-high-end models also have a 12.3-inch floating central control screen.
In terms of other configurations, GAC Toyota bZ4X electric vehicles is equipped with tire pressure display, seat belt unfastened reminder, lane departure warning, lane keeping assist, active braking, front collision warning, full-speed adaptive cruise, etc. It is worth mentioning that, compared with other fuel models of the brand, the quality of GAC Toyota bZ4X's reversing image has been improved to a certain extent, and the display effect is relatively clearer.
In terms of power, GAC Toyota bZ4X electric vehicles has single-motor front-drive and dual-motor four-wheel drive versions. The single-motor front-drive model has a motor with a maximum power of 150 kW and a peak torque of 266.3 N m, and uses 50.3 kWh and 66.7 kWh three-wheel drive. Lithium-ion batteries are used as energy storage devices, and the corresponding CLTC cruising ranges are 400 kilometers and 615 kilometers respectively. The total motor power of the dual-motor four-wheel drive model is 160 kW, and the total torque reaches 337 Nm. With the support of a 66.7 kWh ternary lithium battery, the CLTC pure electric cruising range is between 500 kilometers and 560 kilometers.