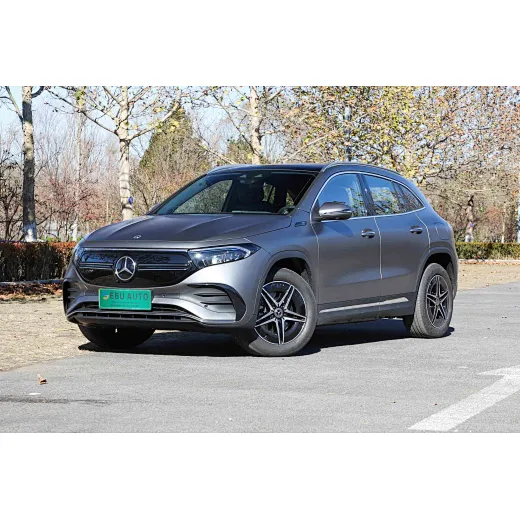 Mercedes Benz EQA
AUTO Mercedes-Benz EQE channel, providing Mercedes-Benz EQE quotes, Mercedes-Benz EQE pictures and prices of Mercedes-Benz EQE on sale, all parameters of Mercedes-Benz EQE, the lowest price of Mercedes-Benz EQE articles, the latest information on Mercedes-Benz EQE maintenance cycles and costs, the most exciting car content of Mercedes-Benz EQE In EBU AUTO.
Minimum order quantity:
1
Is the status of Mercedes Benz EQA not guaranteed? but sales are still dismal
The emergence of new energy vehicles has impacted the traditional fuel vehicle market. Even the BBA models that used to be"superior"are no longer popular, and their sales have shrunk severely. Now first-line luxury brands such as BBA have also begun to work hard in the field of new energy, but they have not achieved excellent results. Take the Mercedes Benz EQA ( picture | configuration | inquiry ) as an example. This model is positioned as a compact SUV with an official guide price of 321,800 yuan First of all, according to the consistent pricing of Mercedes-Benz's models, the Mercedes Benz EQA is not expensive. However, since the launch of the Mercedes-Benz EQA, the monthly sales of bicycles have never exceeded 1,000 units. Since entering 2023, the sales of the Mercedes-Benz EQA in January and February have been 88 units and 103 units respectively.
As the saying goes, if there is a cause, there must be an effect. There are naturally reasons for the dismal sales of Mercedes Benz EQA. First let's talk about price. As a compact SUV, although the Mercedes Benz EQA comes from the first-line luxury brand"Mercedes Benz", it must be known that this is a new energy model. There will be many consumers who simply pay for popularity. Nowadays, there are not many new energy compact SUVs. For example, BYD Song PLUS DM-i is only a model of 150,000 to 200,000 yuan. The large price difference is enough for consumers to choose models with higher cost performance.
For some business people,"face"is naturally very important when traveling, but even if"face"is important, consumers will not favor it if the product is not strong enough. Today's auto market is dominated by young consumers. Will young consumers pay for the centuries-old history of Mercedes-Benz and its high status in the field of fuel vehicles? Of course not! At present, new energy vehicles have gradually become the mainstream in the auto market. The luxury car brands headed by BBA have not really worked hard in the field of new energy for a long time, and the performance of their models is not necessarily better than that of new energy self-owned brand models.
Aside from appearance design and space performance, pure electric vehicles are now driven by electric motors and fixed-gear ratio gearboxes. The power output is sufficiently positive and linear, and there is no shifting frustration. Not too bad. Mercedes Benz EQA, like many competitors, is driven by a single motor, but compared to competitors with an output power of more than 200 horsepower and an output torque of more than 400 Nm, the electric motor equipped with Mercedes Benz EQA gives consumers 190Ps+385N m power output. Although from the book data, the maximum torque of the Mercedes Benz EQA is not bad, but the output power is not very good, and it cannot give consumers a driving experience far superior to competitors.
Similarly, as a pure electric vehicle, battery life is one of the capabilities that consumers are most concerned about. The Mercedes-Benz EQA is equipped with a 73.5kWh battery. km, so the Mercedes-Benz EQA has no advantage in battery life. Not only that, the battery life compliance rate and energy replenishment efficiency of pure electric vehicles are also very important, but Mercedes Benz EQA has not done much research in the battery field, the battery life compliance rate is not excellent, and the energy replenishment efficiency is not high. Why should consumers choose it? ?
Besides, configuration performance, although the Mercedes Benz EQA uses a lot of high-end soft materials inside the cabin, even the electric adjustment function of the co-pilot seat requires consumers to pay an additional 2,900 yuan for optional equipment, and the seat is not equipped with heating, massage, ventilation Among the two models on sale, although the 2023 model supports the optional seat heating function for the front seats, it also requires an additional payment of 2,600 yuan. Obviously, the Mercedes Benz EQA is not equipped with any comfort configuration, which cannot meet the needs of consumers for comfortable travel.
In terms of technological configuration, the performance of the Mercedes Benz EQA is also hip. It uses a 10.25-inch central control screen with a screen resolution of 1920*720 and supports car-machine interconnection and car networking functions. It seems to be good. However, compared with the Mercedes Benz EQA, many models of the same price use dual screens and triple screens, and the screen resolution can reach 1920*1080. The vehicle-machine interconnection function and the Internet of Vehicles function are also generally equipped, and even support 5G networks. Give consumers a smoother smart interconnection experience.
In addition, in terms of hardware sensors, Mercedes Benz EQA is only equipped with 2 exterior cameras and 12 ultrasonic radars as standard, while many competitors at the same level (models with lower prices) also provide consumers with The more accurate millimeter-wave radar and lidar will give consumers a better security experience. Therefore, as a model of the"noble"Mercedes-Benz in the era of fuel vehicles, the Mercedes Benz EQA does not perform well in terms of power system, comfort configuration, or technology configuration. If the performance of Mercedes Benz's future models in the new energy field is close to that of Mercedes Benz EQA, then Mercedes Benz will eventually come to an end.